Hey hey! I have some pretty cool news to share with you today. I just found out that I was one of the guitarists in an article called "The Best Acoustic Guitarists In the World Right Now" by Total Guitar Magazine. There are some fantastic players on there and Im really honored to be mentioned among them.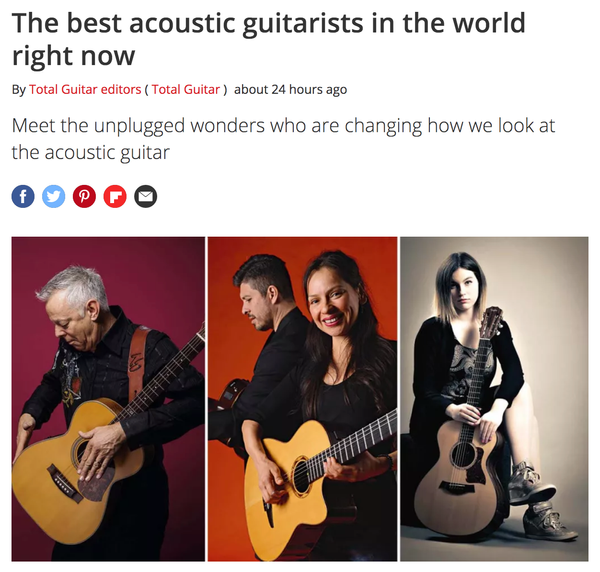 Click HERE to read the full article!

Here's their write up on my story: 

"Having lived in Iran, Belarus, Germany, the US and Canada, Maneli Jamal has not had a shortage of musical traditions to explore. At their best, his compositions have a globe trotting expansiveness of their own, running the gamut of modern techniques, tunings, and rhythms. 
An early success of his, Awakening, skips gracefully between bars of 3/4 and 4/4, moves through massive‑sounding chord voicing, and builds to a climax of guitar percussion. Daft Funk, meanwhile, hints at what might happen if Nile Rodgers dedicated himself to mastering fingerstyle acoustic. 
Jamal is known for his entertaining on‑stage delivery as well as his playing, and this ability to tell a story pervades his compositions. He has a gift for finding sounds to conjure images, whether he is evoking the Iranian revolution in Awakening or summer in the American South on Southern Magnolia. 
His 2012 opus The Lamaj Movement makes use of this gift by telling the story of his nomadic childhood over 12 instrumental tracks. It evokes all the drama of his early life but is considerably less arduous than spending your childhood in exile. So far in 2021, he's passed 50 million Spotify streams and 5 million YouTube views, and Maneli's star is still rising." 
As always thanks so much for your support and listening to the tunes! 
Maneli

YouTube | Instagram | Facebook | Spotify | Patreon